An_Net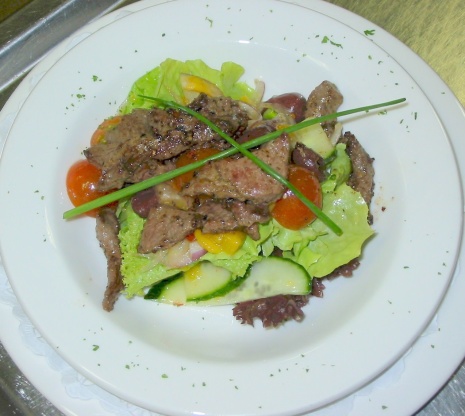 Here's a salad with substance. You could serve it as a main meal, or as a starter for a Thai meal.

Top Review by An_Net
Really enjoyed this salad. I omitted the grapes and beans as I didn't have any and didn't use the lemongrass but still believe the flavour of this comes from the 1st 5 ingredients. I actually marinated my meat for a couple of hours in those 5 ingredients and then followed the recipe as directed. Very quick and easy and really tasty.
Mix the chili flakes and garlic together.
Mix in the lime or lemon juice, fish sauce, sugar, sliced lemongrass and red onions.
Boil the beans in a pot of water for just for a couple minutes. Rinse in cool water and drain.
Cut the cucumber in half lengthwise and use a spoon to scoop out the seeds. Cut into half-moon shapes.
Mix the beans, tomatoes, cucumber, grapes and most of the herbs together in a salad bowl.
Heat up a frying pan or griddle until very hot.
Smear the meat with oil on both sides and cook for 2-4 minutes on each side. This will leave a bit of pink in the middle.
If you want it well done, adjust the cooking time as necessary.
Let the meat rest for five minutes before slicing, then lay it on a work surface and slice it thinly on a slant.
Spoon most of the dressing mixture you prepared earlier over the salad.
Slide the steak slices through a bit of the remaining dressing, then arrange it over the salad.
Decorate with the leftover herbs and serve.