Thai Beef Curry With Bamboo Shoots
WiGal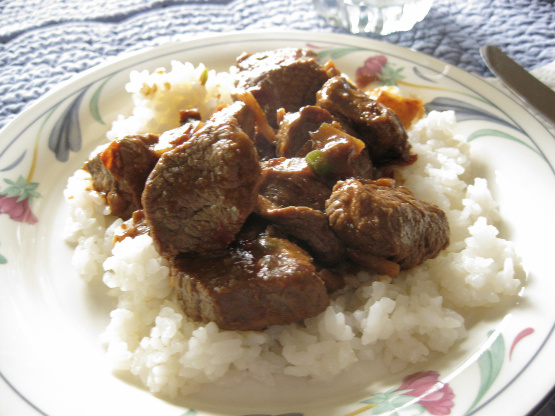 This is anothe recipe from Australian Women's Weekly - Easy Thai Style Cookery. A beautiful dish with lots of flavours and crunch. We like extra curry and the below curry recipe is doubled from the original. Prep time does not include extra time needed to prepare curry

Top Review by WiGal
Vibrant with flavor! Served ours with recipe#369451 -the two complimented each other perfectly. Next time, I will use sirloin steak-I bought round steak already cubed and it did not come out tender. My fault. Thank you Deantini for posting. Made for ZWT6.
Curry

5

dried red chilies (or 1 1/2 tbsp red pepper flakes)

1

tablespoon dried galangal, chopped

1

tablespoon kaffir lime leaf, dried, chopped

1

cup water

2

green onions, chopped

2

garlic cloves, rushed

2

teaspoons lemon rind, grated

1

tablespoon lemongrass, chopped

1

teaspoon ginger, grated

Stir-fry

1

tablespoon oil
1 1⁄2 lbs flank steaks (or marinating steak, dish will be a bit tougher)

6

ounces bamboo shoots, drained & sliced into smaller pieces if necessary

1

fresh red chili, chopped

1

fresh green chile, chopped

1

tablespoon fish sauce

1

kaffir lime leaf, dried

1

teaspoon brown sugar

2

tablespoons fresh basil, chopped
Curry Paste:.
First prepare curry - soak chillies, galangal and peel in a bowl, cover with water and let stand for 1-2 hours or more.
Drain peel mixture and reserve 1/2 cup of the liquid.
Blend/process peel mixture, reserved liquid, green onions, garlic, lemon rind, lemon grass and ginger until smooth.
Stirfry:.
heat oil in wok or large deep pan, add steak and stir fry until browned. Add 1/2 cup (or more!) of curry paste and stir for 2 minutes.
add bamboo shoots, chilies, fish sauce, lime leaf and sugar, stirfry until steak is tender.
Stir in basil and serve over white sticky rice.