loof751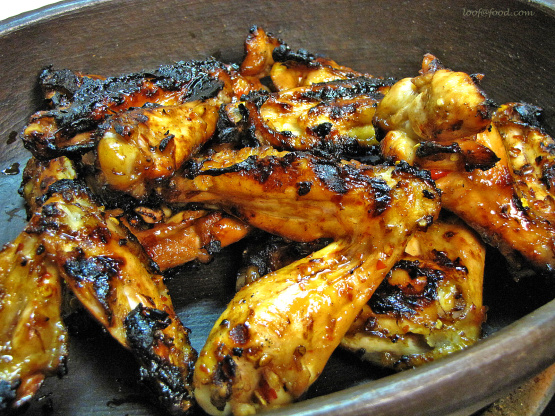 A recipe I found on About.com for Thai recipes that I am posting for ZWT. Here is what is stated about the recipe: "This chicken wings recipe is very easy to make, and the taste is superb. Even your kids will go crazy for these chicken wings, which turn out naturally glazed with a garlicky and slightly sweet sauce. Barbecue them outdoors, or bake them in your oven - either way, they turn out fabulous. Chicken wings are always a popular choice for dinner, whether during the week or on long, hot summer weekends. Enjoy!"

Fantastic chicken wings! I cut off the tips and removed as much of the skin as I could. I marinated for about 4 hours and used 1 tsp of crushed red pepper which for us was the perfect amount of heat and great with the sweet chili sauce. Thanks for sharing the recipe! Made for ZWT9, The Apron String Travelers
Mix all 'Marinade' ingredients together in a small bowl. Stir well to dissolve sugar.
Place wings in a large bowl and pour sauce over. Stir well to coat chicken with sauce. Allow wings to marinate 10 minutes or longer while you heat up the grill (up to 24 hours).
Grill the wings, basting them once each side with some of the leftover marinade from the bottom of the bowl. OR cook them in your oven (see next instructions).
To Cook Wings Indoors: Place wings in a baking dish and bake in a preheated oven at 350 degrees for 30 minutes. Then turn oven to "Broil" setting. Transfer wings to baking sheet and place wings on one of the higher racks in your oven. Watch the wings carefully, as they can easily burn. Turn them every 5 minutes for 15-20 minutes, or until glossy and browned. Baste them once with leftover marinade from the bottom of the bowl.
Serve the wings as is, or with rice on the side. ENJOY!