Thai Barbecue Chicken W/ Spicy Dipping Sauce
teresas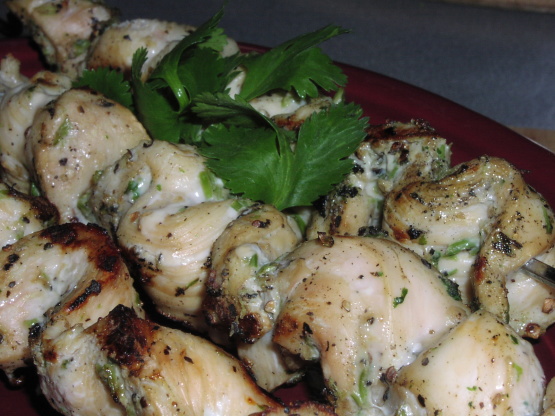 A simple tasty way to grill chicken (or pork loin!). This comes from the Hot Sour Salty Sweet cookbook. I usually serve it with sticky rice and stir fried veggies, but it's very versatile! Use less or more crushed red pepper flakes according to your taste--this can get quite fiery!

Wow! This is delicious. We loved the dipping sauce. The chicken came out nice and moist. I cut the recipe down to serve two. So I just used my mortar and pestle to mash everything up. Served it with recipe #238240 and recipe #28243. Thanks for posting. :)
To make the sauce, bring vinegar to a boil in small non-reactive sauce pan. Add sugar and stir till dissolved. Reduce heat to medium and let simmer 5 minutes. Add 2 cloves garlic and crushed red peppers. Cool to room temperature and pour into glass jar. Leftovers will keep in the fridge for a couple weeks.
To make the meat, combine peppercorns, 5 cloves garlic, coriander seed, and fish sauce in mini food processor. Whir till a lumpish paste forms (if needed, finish grinding with a mortar and pestle). Spread paste over chicken and cover. Marinate in the refrigerator for several hours.
Preheat a grill or broiler. Thread meat onto skewers and grill for 3-4 minutes on a side. Serve with dipping sauce.
Marination time not included in time to make.