TGI Fridays Vanilla Bean Cheesecake
ablaze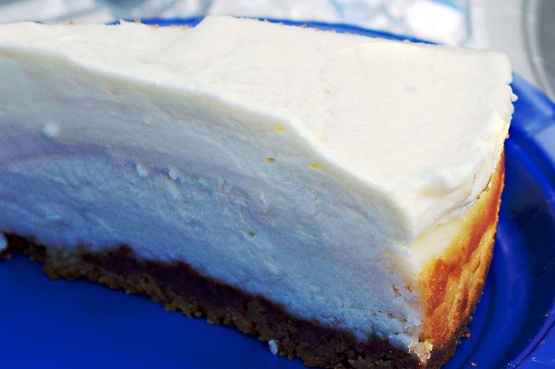 I have not been able to try this yet but will update when i do... this is the ONLY dessert i will get at TGI Friday's!!!!!!! There are lots of ingredients... but i am sure it will be well worth the time!!!!

Oh my gosh! This is to die for. I made this cheese cake because I love it at tgifridays. I was a little intimidated by the instructions and all the ingredients but it was actually easy. Do not substitute the vanilla bean. Also, I thought it was much better after 24 hours in fridge.
CRUST:Crush the graham crackers. Mix in the sugar. Add the egg yolk and vanilla, then stir in the melted butter. Line a springform pan with non-stick foil. Press graham crackers into the pan. Bake at 375º for 8 minutes or until edges are slightly brown. Remove and let cool.
CHEESECAKE: Combine cream cheese, sour cream, corn starch and sugar, mix until sugar is dissolved. Add butter, vanilla and beans, blend until smooth. Don't overmix.
Bake at 350F 30 to 35 minutes. Cool 1 hour.
WHITE CHOCOLATE MOUSSE In a cold mixing bowl beat cream until soft peaks form. Gradually add powdered sugar until stiff peaks form. Put this in a bowl in the fridge. Don't wash your mixing bowl, beat the cream cheese in it, until fluffy. Add the white chocolate and beat until smooth. Fold in the whipped cream.
VANILLA BEAN WHIPPED CREAM In cold mixing bowl, beat whipping cream until soft peaks form. Gradually add powdered sugar and then vanilla beans, beating until stiff peaks form.
After the cheesecake has cooled spread the mousse evenly on top. Refrigerate for about an hour then spread the whipped cream on top. Refrigerate several hours before serving.