AlainaF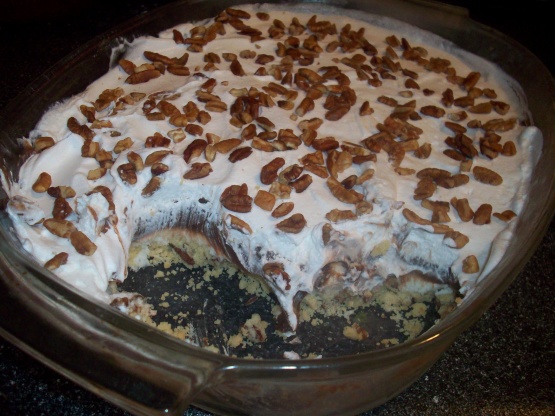 My mother is the master at making this every Thanksgiving, and it is my favorite dessert that she makes. I like this days after its made, and I like to sneak some in a cup for a midnight snack...you can't have just one bite!
Preheat oven 350 degrees.
Mix flour and pecans with melted margarine in bowl until well mixed. Press the mixture into a glass casserole dish to make the bottom crust.
Bake for 15-20 minutes, until edges are lightly browned. Let cool for 30 minutes.
In a large bowl, mix together cream cheese, powdered sugar and 1 container of cool whip with an electric mixer until lumps are out.
Spread over crust.
In another large bowl, mix butterscotch and chocolate pudding mixes with the milk until it thickens.
Spread over cream cheese layer.
Spread the other container of cool whip over top of pudding mix.
Sprinkle with chopped pecans, and wrap with aluminum foil and refrigerate overnight.