rpgaymer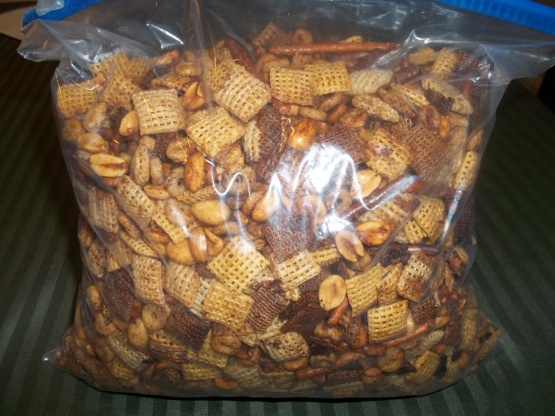 Not your ordinary snack mix! A BIG, BOLD FLAVOR just like the State of Texas! This can be doubled, tripled or quadrupled successfully. You can also add other ingredients, just keep the proportion of spicy butter to the dry ingredients the same as in the recipe. I usually add goldfish crackers to mine.

Great stuff - it just won't last long - I recommend making two batches. One for your guests and one for yourself :-) I added goldfish crackers like you suggested and the cereal, pretzels and peanuts. Delicious!
Preheat oven to 250.
Mix the first 7 ingredients in a cup with a spout.
Mix all dry ingredients in a baking pan.
Pour the butter and seasonings over the dry mix, stirring until each piece is coated.
Bake for 1 hour, stirring every 15 minutes.
Cool.
Stir in an air tight container.
Freezes well.