Texas Style Picante Sauce
Catnip46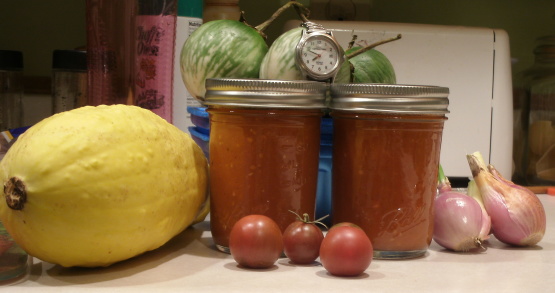 I've been making this recipe for the last 3 summers. Hands down, it's the best recipe for picante. I do reduce the sugar by half and add 2 tsp of red pepper flakes since we like our picante on the hot side, but it is excellent just the way it is. I don't freeze it. I process it in canning jars, just like instructed and make enough batches to last all year long. I usually end up with 4 pints because I double the jalapeno peppers and add one more cup of tomatoes.
Substitution: 1 1/2 Habanero instead of Jalapeno makes this warm but not too hot For Making Texas Style Picante Sauce: Combine jalapeno pepper, garlic, tomato paste, sugar, vinegar, alum and spices in blender or food processor.
Process until desired consistency.
Combine chopped vegetables in large sauce pan.
Bring to a boil, reduce heat and simmer for 45 minutes.
Pour into hot sterilized 1 pint jars leaving 1/2 inch headspace. Seal and process in boiling water bath for 15 minutes or pressure canner for 5 minutes at 10 pounds of pressure.