Texas Signature Steak Rub
loof751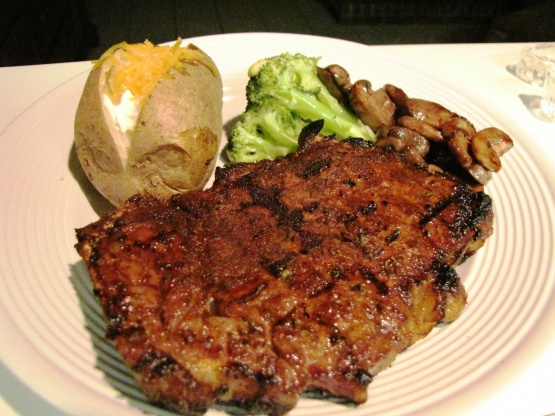 This was the winner of the 2000 Texas Hill Country Wine and Food Festival. I rub this on steaks and leave at least overnight. You will have the most tasty and tender steak EVER! My friends won't let me serve steak any other way. Use a good cut of meat--rib eyes or NY strip.

Made this rub as directed with one exception -- used less cayenne (may add more later if needed). The flavors are really good and yes, it does have a sweet taste, but Texas brisket and ribs are known for having a sweet-flavored dry rub. You can always use a vinegar-based mop sauce or bbq sauce, but the brown sugar really helps to tenderize the meat. I'm not sure if I would use this on a steak, but I will definitely use it on baby back ribs and smoked brisket. Made for the Football Tag, October, 2013.
thoroghly mix all ingredients.
Rub on steaks.
Cover and refrigerate steaks overnight.