Texas Shrimp and Rice Salad
loof751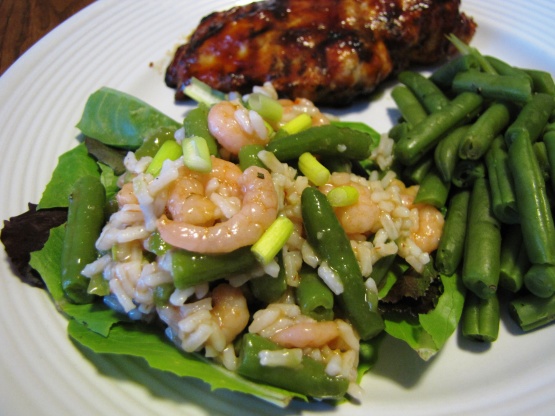 This is a make ahead chilled salad that is ideal for warm weather. It's refreshing and nutritious and it's mighty good too. Recipe assumes that you have cooked rice, leftover is fine.

Tasty salad! I used tiny salad shrimp, fat-free Italian dressing and left out the olives. I don't care for onions so just added them to DH's serving and left them off mine. The dressing for this was perfect with the shrimp. I served this as a side but it could easily be a meal on it's own. Thanks for sharing the recipe!
Bring water to boil in large pot; add shrimp and return to boil.
Reduce heat and simmer 3-5 minutes.
Drain shrimp well and rinse with cold water. Cool shrimp; peel and devein.
Combine shrimp, rice, beans, olives and onions; toss well.
Combine salad dressing with seasonings; mix well.
Pour over rice mix and chill.
Serve over salad greens.