Texas Roadhouse Green Beans (Copycat)
lazyme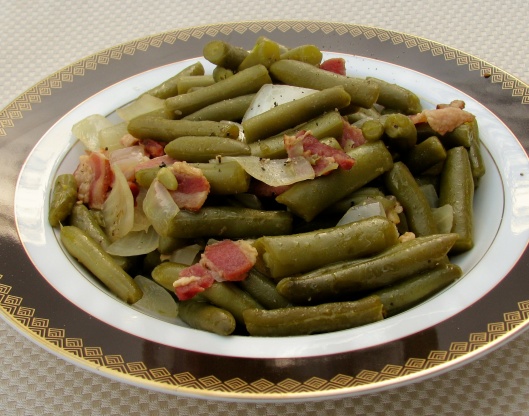 We really like these green beans at TRH and after a little searching found this recipe. Recipe is courtesy of WTVR, Richmond, VA. When a friend of mine started working there, I asked if this is how they prepare their green beans and she shook her head yes, but said no with a smile. I have included both variations for this recipe; choose the one to your liking. Cook/simmer time is approximate.
This is wrong, I was a hot prep cook there for years. The broth is made from water, white pepper, and ham base (pork bouillon). You cook the bacon pieces down till they are brick red, add the onions and cook until translucent, add some chopped garlic then add the broth, you let the broth simmer for 20 minutes are so, add the Del Monte canned green beans (strained) to the broth, bring to a boil and then turn off the heat. You do no boil or simmer the green beans for long just enough to heat through, this is important so that you dont over cook them. They are best made a day in advance, we werent supossed to sell them until they had aged a day to absorb the broth.
Using a colander, thoroughly drain green beans. Set aside.
Mix water, sugar and pepper until well incorporated. Set aside.
Preheat your cooking pan to Medium High heat.
Raw Bacon Method.
Using a cutting board and a knife, dice the raw bacon into equal size pieces. Place diced bacon into preheated cooking pan. Continually stir bacon with large spoon to keep the bacon from burning.
Once bacon is cooked add the onions and cook until they are tender and light brown.
Diced, Cooked Ham Method.
Using a cutting board and a knife, dice the cooked ham into equal size pieces. Place the diced ham and onions into the preheated cooking pan.
Using the large spoon, continue to stir the ham and onions until the ham is lightly brown and the onions are tender.
Now that the onions are tender add the liquid mixture and the beans.
Using the rubber spatula stir the mixture until incorporated.
Bring mixture to a boil and turn heat to simmer. Serve beans as soon as you are ready.