Sara 76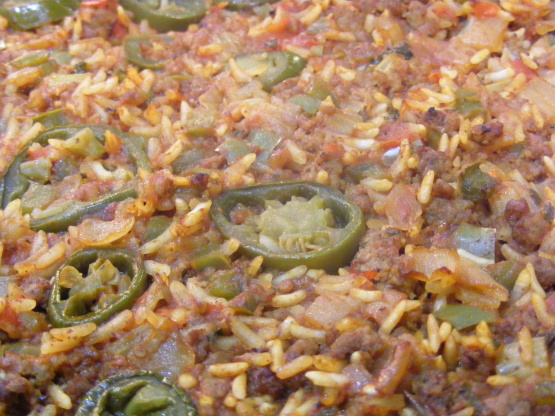 The great thing about Texas Hash is that you can adjust the seasonings and other ingredients to suit your taste preferences. So it can gave be as hot or mild as your taste buds will tolerate. We serve this with thick slices of Texas Toast that we lightly toast during the last several minutes that the Texas Hash is baking.

This was great! Even my fussiest of children ate it - and he never eats anything with tomatoes in it! I used extra onion, capsicum, and celery. I also added an extra 1/4 cup of rice, and some homemade tomato sauce, and about 1/2 cup water. I had to increase the cooking time, it took closer to 1 hour to cook the rice, but I think that was because I hadn't covered the dish tightly enough with foil. Because I was keeping it mild for the kids, I only added the specified amount of chilli powder, but sprinkled 1 section with sliced jalepeno chillies for us. We served this with Parmesan Toast ( Recipe #381491 )and the kids had a little grated cheese on theirs! We will make this again. [Made for PRMR]
Lightly spray a 9x13-inch baking dish with a cooking spray (Pam, or similar); set aside. Preheat oven to 375º.
Sauté the beef, onion and celery in a large skillet over medium heat until no pink remains in the beef and the onions are clear. Place the meat mixture in a colander to let the excess grease drain.
Return the meat mixture to the skillet. Add the tomatoes, green pepper, rice, garlic and all remaining ingredients (spices/herbs) to the skillet. Stir well.
Pour the meat/rice mixture into the prepared 9x13-inch baking dish. Cover the baking dish, and bake in a 375º oven for 30 minutes, or until the rice is cooked and soft.