MA HIKER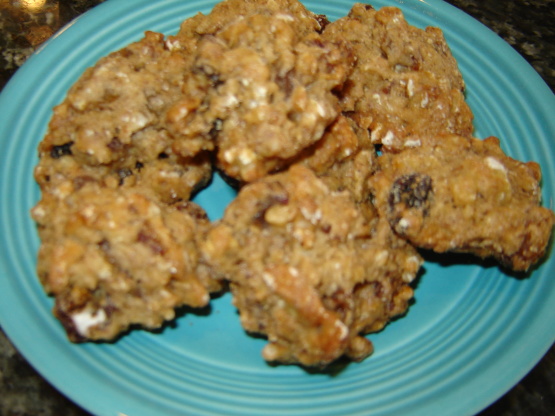 If you like a lightly spiced batter clinging to chunks of walnuts, dates and raisins, this cookie is for you! A friend brought this recipe to a cookie exchange, and it became an immediate family favorite. I've baked them every year since. It makes a big batch - 13 dozen - but I haven't tried to halve the recipe as they are too popular! You can decrease the amount a sugar a bit if using pre-chopped dates.

Very good - a not too sweet wonderful texture cookie. I used 1 3/4 cups sugar because I used the pre-chopped dates. I could have kept it at 2 cups but they are still good. I would increase the spice too - maybe do a pumpkin pie spice to experiment. A nice big batch too - great for my church's cookie walk!
Preheat oven 325F or 350°F Beat eggs well; Gradually add sugar, cinnamon, cloves, nuts, butter, raisins, dates, baking soda and flour, in order; Mix thoroughly.
Drop by teaspoons onto ungreased baking sheet.
Bake in slow oven: 12 minutes at 350F or 15 minutes at 325F for a softer cookie.