KellyMae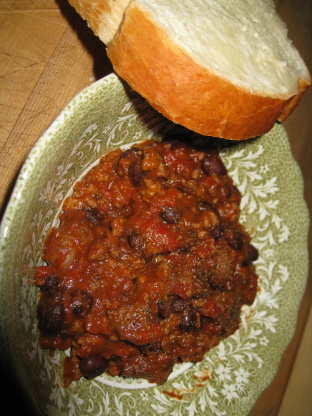 I have served this many times for Monday Night Football parties. Yes, it has beans and tomatoes and I'll call it Texas Chili, if I want to. Don't hate.

Props to you for knowing Texas Chili isn't supposed to have beans. Bad on you for knowing this and still calling it Texas Chili. We pride ourselves on our chili and what's in it and what's not in it. That's why Texas Chili has such a great reputation. No veggies, no tomato chunks, no beans, and spicy hot. Without these guidelines, it could be Wisconsin Chili, or Yankee Stew. Maybe you could re-title as Football Chili?
Place flour in a large zip-top plastic bag.
Add beef; shake to coat.
Heat 3 T oil in Dutch oven; add beef and any remaining flour.
Brown beef over medium-high heat; remove beef from pan; set aside.
Heat remaining 2 T oil; add onion and garlic; saute over medium heat until onion is tender.
Stir in beef, tomatoes, kidney beans, tomato sauce, chili powder, red pepper, cumin, and oregano.
Heat to boiling; cover and reduce heat; simmer stirring occasionally, about 1 hour.
Uncover; simmer stirring occasionally 30-60 minutes longer.