CyndiCB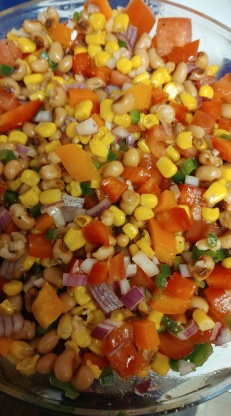 I've read a lot of different versions of Texas Caviar. So I finally decided to work on my own recipe and make the changes that I wanted. I've made this recipe several times, and everyone has enjoyed it, so I hope you like it as well. It's a super simple recipe, and only takes a little bit of time to make.
2

(16 ounce) cans black-eyed peas, drained & rinsed

1

(16 ounce) can corn, whole kernel, drained

1

red bell pepper, chopped

1

green bell pepper, chopped

1

medium purple onion, chopped

3

jalapenos, seeded & chopped

3

roma tomatoes, seeded & chopped

1

garlic clove, crushed

1

tablespoon Tabasco sauce
1⁄4 cup red wine vinegar
1⁄4 cup vegetable oil
salt and pepper, to your taste
Drain and rinse beans and corn.
Combine in a large bowl with chopped peppers, onions, garlic, and tomatoes.
Mix oil, vinegar, Tabasco, salt and pepper.
Pour over salad and stir gently to coat.
Chill for several hours (over night is best though).
Serve with tortilla chips.