Texas Best Cheese Dip (Chile Con Queso)
Junebug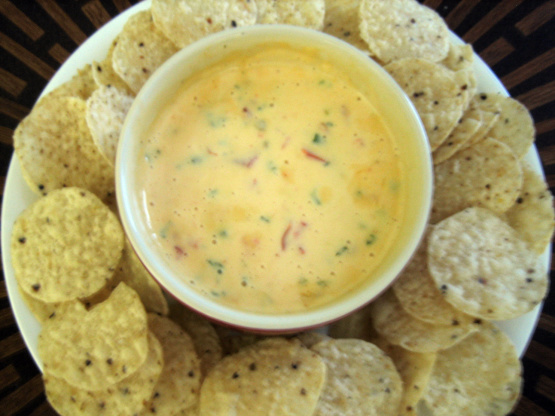 This is a delicious cheese dip that my daughter makes. The cream cheese gives it a wonderful consistency. All the fresh ingredients make this a dip that you will be asked for over and over again! Please note I have put "to taste" on alot of the ingredients as it depends on how big your bunch of veggies are. If you actually get lucky enough to have any left it keeps in the fridge a good while and reheats great. I usually serve/take this dip in a crockpot so it stays warm.

I%u2019ve got mountains of dip recipes from all over the internet (mostly from here) but this one is by far the absolute best I%u2019ve ever tried. I made it in the microwave, melting the cheeses together first and then stirring in the other fresh ingredients. 5 stars isn%u2019t enough, really it was just so stinkin good. I made it for a baby shower and people kept coming back to the dip bowl for more. This will be my standard dip recipe for now on. I can%u2019t imagine finding another recipe better then this one.
Melt cheeses together in microwave or on stove top.
Stir in all other ingredients.
Serve warm.