jswinks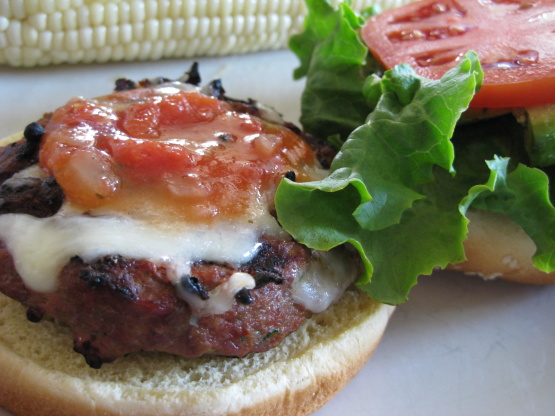 Low Fat and Diabetic Friendly.

SO good! My entire family loved these, even those who are not health conscious. We ate them without buns but we added horseradish aioli with mild salsa and it added just that extra kick! I used more taco seasoning than listed and I would even have used some cayenne pepper or a medium taco seasoning instead of mild. Overall, I felt really great about them and they tasted GREAT and I usually am not a burger fan at all!
Place the mushrooms, zucchini, onion, and red bell pepper in the bowl of a food processor and process until the vegetables are finely chopped.
Place the vegetables, ground meat, and taco seasoning mix in a medium-sized bowl and mix thoroughly.
Shape the mixture into six 4-inch patties.
Grill the burgers over medium coals or cook under a broiler for about 6 minutes on each side, until the internal temperature of the patties reaches 165 degrees (160 degrees for ground beef) and the meat is no longer pink inside.
(To retain moisture, avoid pressing down on the patties as they cook.).
Alternatively, coat a large nonstick skillet or griddle with cooking spray and cook the burgers over medium heat for about 5 minutes per side.
Sprinkle 2 tablespoons of the cheese over each burger, cover the grill, and cook for another minute, just until the cheese is melted.
Place each burger in a bun and top with some of the salsa or ketchup, onion, tomato, and lettuce.