Tex-mex Turkey & Black Bean Ranch Salad
Rita1652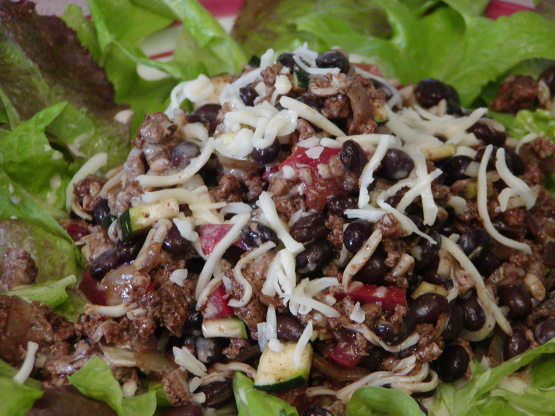 Tex-Mex seasoned turkey (with a special ingredient!) is combined with black beans to make a delicious main dish salad. Diced raw yellow squash adds a mild crunch, plus tomato, green onions and Monterey Jack cheese all tied together with a tangy-sweet honey-buttermilk dressing. Serve with tortilla chips or warm corn tortillas if you wish.

The turkey mixture had way to much cocoa it gave it a bitter taste so I added all the salad ingredients except for the greens and it mellowed it out nicely. I used a 15 ounce can of beans which I thick helped smooth out the cocoas bitterness. The dressing I would double next time. This recipe feeds way more then 2 people. 4-5 servings. Or skip the dressing and use salsa.
In a medium saucepan, saute onion and garlic in the olive oil until lightly browned.
Add turkey and brown slightly; then add unsweetened cocoa powder, chili powder, oregano, cumin and salt.
Cook together, stirring often, until turkey is well-browned and thoroughly cooked.
In the meantime, whisk together the dressing ingredients: buttermilk, mayonnaise, honey, chili powder, garlic salt, salt and hot sauce.
To assemble salad, divide mixed salad greens on two dinner plates.
Compose salads with half each of the warm Tex-Mex turkey, black beans, yellow summer squash, tomato and green onion.
Drizzle each salad with the Honey-Buttermilk Ranch dressing and top with shredded Monterey Jack cheese.