Debber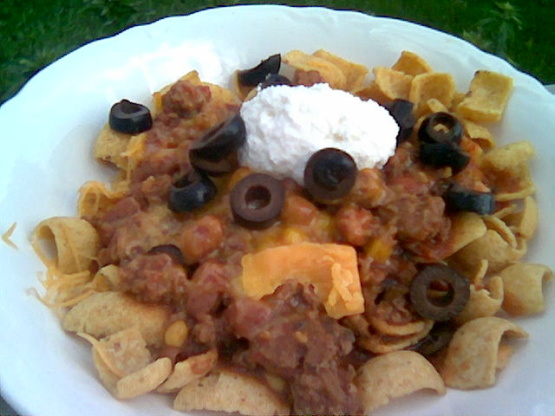 Taco soup made with salsa, ground beef, beans and corn, seasoned with taco seasoning and ranch. This is a chunky soup that can be served over tortilla chips or Fritos like a Frito Pie. If you like it soupier just add water with the rest of the ingredients after browning the beef. Really good, and even better the next day. Freezes well too.

Top Review by Debber
This is really good! Reminds me of a recipe I have, too. I didn't have kidney beans, so used two cans of "chili" beans instead--no one complained! Also, used Recipe #167319 dry ingredients and a squirt of fresh (store-bought) Ranch dressing too. And used my own home-made mix for taco seasoning, too (generous pinch of basil, oregano, parsley, about a tsp of garlic powder, and about 1 1/2 tsp of chili powder, 1 T dried, minced onion)--much cheaper than store-bought--and tastier too! Added some sour cream and black olives for a garnish---yum! NOTE: This recipe WITHOUT the water isn't a soup at all....and if you want it soupy, it takes about 3 or 4 cups of water to get a soupy consistency. Definitely agree with your note in the description: better the next day! Yummy!!!! I'm going to freeze the leftovers (I've got a trip coming up before the end of the month---need some vittles on hand for the POOR family being left at home!!!)..... *Made for ZWT 3 US Regional*
In a Dutch oven or other large pot, over medium-high heat, brown ground beef with garlic until beef is crumbly; drain well.
Add remaining ingredients, except for cheese, and stir.
Heat to boiling; reduce heat and simmer for 45-60 minutes (or combine all ingredients in crock pot and cook on LOW for 8 hours).
Serve in bowls, if desired over broken tortilla chips.
Top with grated cheese to garnish when serving.