Chilicat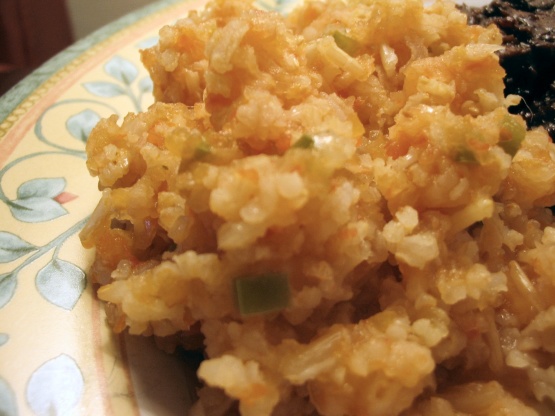 I got this recipe at a cooking class and it always turns out perfect. The cookbook is, "San Antonio, Love at First Bite". Can substitute vegetable broth to make it Vegan.

I like that this rice has a fair amount of fresh veggies incorporated into it. I had to keep it simmering for almost an hour to get all the liquid to soak up, so I'd probably reduce the amount of broth the next time. My tomato may have been too big, and pureeing it released a lot of liquid. The taste is very nice though - it's definitely worth making again. Thanks for posting, Vicki!
Place tomato, onion, and garlic in food processor. Puree.
Saute rice in oil until opaque.
Add pureed mixture and remaining ingredients.
Cover and simmer for 25 minutes WITHOUT removing lid.