lazyme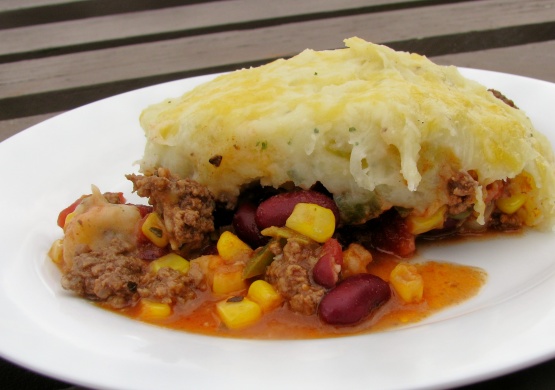 A twist an a classic. This makes a lot; it fills a 13" x 9" pan to the rim! Prep time includes the browning meat/boiling potatoes (to be done simultaneously).
In a skillet over med-high heat, crumble and brown beef with onion, green peppers and garlic, until no longer pink. Drain.
In the same empty skillet, add tomatoes, kidney beans, corn, tomato sauce and spices; stir well.
Return the hot drained beef mixture to the skillet and mix well. Simmer for about 10 minutes. Pour into the bottom of a 13" x 9" (or larger) baking pan. Sprinkle with the 1/2 cup cheese; set aside.
While beef is browning, etc -- in a large pot, boil potato chunks in salted water until tender; drain.
Return to hot pot and mash with butter, milk, and sour cream.
Add 1 cup ONLY of the cheese, green chilies, and the salt, pepper and chives. Mash to desired consistancy.
Evenly spread potatoes over cheese layer in the pan.
Evenly sprinkle potatoes with remaining 1/2 cup cheese.
Bake at 350 for 25-30 minutes.