Tex Mex Party Bites Aka: Rattlesnake Bites
Bergy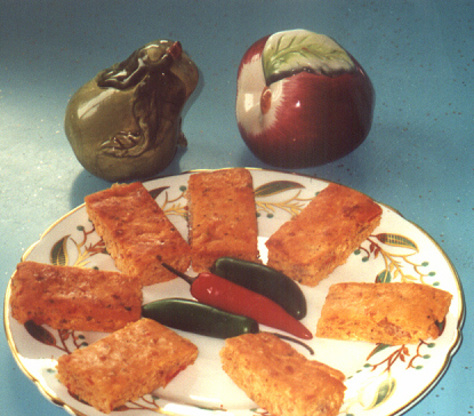 Delicious & spicy Little Party Bites. Can be made day's ahead and can be frozen. Recipe includes a Dip for them too! If recipe appears to hot or spicy for you , you can change the Cheeses to a Mild Cheddar, Mozzarella or Swiss and omit the Cayenne Pepper.

Top Review by Bergy
Made the Rattlesnake bites today and they are delicious! You didn't specify what size of can for the Rotekl tomatoe & chili - I used a 5 1/2 oz can of Primos Taco sauce instead, it worked. If you use the tomatoes do you chop them? I mixed all the "wet" ingredients, peppers spices, cheese etc together and then stirred in the bisquick. Watch that they don't burn on the bottom I put the 13x9" pyrex pans on a "Bakers Sheet" (I think thats what they are called} I love a recipe where I can make a bunch & freeze for future use. I cut them into 2" x 3/4" pieces and got apprx 60 pieces. I would have given you 5 stars for flavor but dropped you one for the lack of size of the tomato can and instructions that are just a little sketchy . Thanks for the recipe Donna It's a Keeper
Combined all ingredients mixing well.
Pour 1/2 the mixture into a greased 9x13 cake pan.
(I use 2 9x13 pan's and cook 2 at a time).
Bake in a preheated oven on 350° for 20 minutes
or until golden brown like cornbread.
Let cool slightly and cut into 2 inch squares.
Dip into the Sour Cream and Taco Sauce Dip or eat them Plain!
If you freeze them,let them thaw & reheat them slowly in a 275° preheated oven until warm.