Derf2440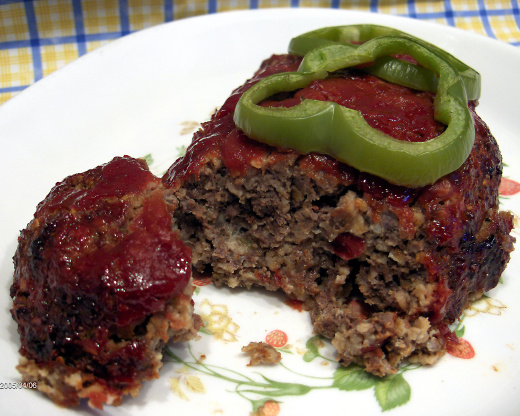 This is my origional recipe. It is so good, you'll be lucky if there is any left over for sandwiches! My Grandma always requested this for get togethers. After she passed away, I decided to write a cookbook in her honor. This is in there. You can get more info at www.countryconfections.net

Extremely good! I made this for a church potluck (served cold) and it was a hit. I used red bell pepper and broiled it for the last 5 minutes to blacken it a little. Thanks for posting this wonderful and unique meatloaf recipe.
Preheat oven to 375.
In a small bowl mix ketchup, cumin, and chilli powder.
Set aside.
Next, mix beef, salt, oats, salsa, and eggs.
Place mixture in a large glass baking dish.
Form into a loaf.
Spread ketchup mixture on top of meatloaf.
Bake on middle rack for 45 minutes.
Remove from oven and place pepper rings on top.
Return to oven and cook for 15 minutes more.
Let rest for 5 minutes.
Makes great sandwiches.