diner524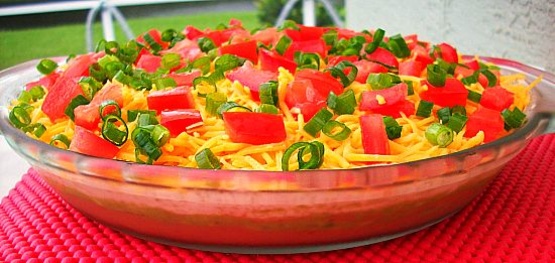 Layers of yummy Tex Mex ingredients. Simple to make yet gets lots of rave reviews! Saw similar recipes for this here on Zaar but none exactly like this one!

Top Review by J-Lynn
Very good, of course! Although I think it would be perfect with the given ratios, I increased it to feed more people. In a deep-dish pie plate, I used a 16oz can of refried beans mixed with approx. 1/2 cup salsa so it wouldn't be too stiff. Then topped with a 12 oz. container of pre-made guacamole. Put the same amount of sour cream mixture on top as stated, and the pie plate was full! I sparingly sprinkled cheese on top before adding quartered cherry tomatoes and diced green onions. It was delicious, but I would have enjoyed being able to increase the sour cream since I increased everything else. Did not think more cheese was needed.
Spread beans in bottom of serving dish.
Top with guacamole. You can use any recipe you like or even use a good guacamole dip.
Mix sour cream and taco seasoning and spread over guacamole.
Sprinkle cheese on top of the sour cream layer.
Garnish with tomatoes and green onions.
Serve with tortilla or corn chips.