Pamela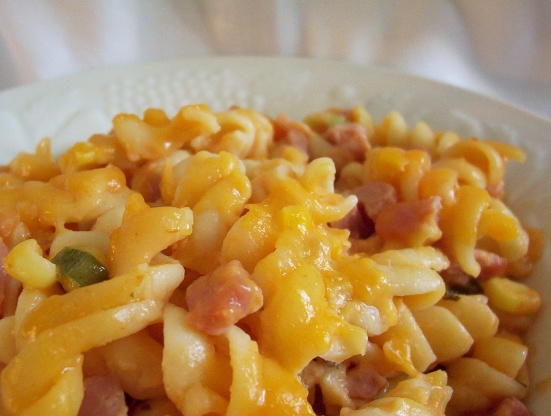 This is a family favourite that comes from an old Milk Calandar. Even DH, who doesn't like anything tex-mex raves about this one. I always make it with the ham, but the if you have left over chicken, I bet it would be just as good.

yummy! of course, i can't leave anything the way it is, so i added minced garlic, a can of sliced black olives, sliced mushrooms, onion and red bell pepper - i then topped it with shredded cheddar and baked it at 375 until the cheese melted, for about 25-30 minutes. i added in some extra half & half to account for the extra ingredients, used leftover ham and it was delish! definately a good salsa would make a big difference IMHO. thanks, will make again!
Cook Pasta according to package directions.
Meanwhile, in a medium sauce pan, melt butter over medium heat.
Stir in flour until blended.
Gradually whisk in Milk and salt, making sure there are no lumps.
Stir and bring to a boil.
Reduce heat to medium-low and simmer for 1 minute.
Reduce heat to low, add cheese a handful at a time, stirring until melted.
Stir in chicken or ham, corn, green onions and salsa; heat through.
To serve, drain pasta; turn into a large bowl.
Toss sauce with pasta and sprinkle with additional grated Cheddar cheese, if desired.