Annacia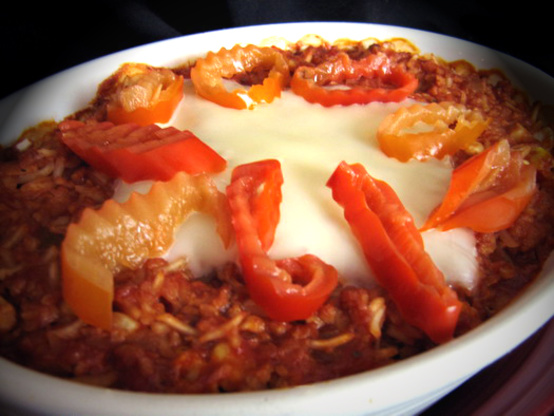 So far this is my favorite recipe that I use. It is from Joanna Lund. I make this at least once a month. It has a great taste and the portion size is plentiful. Per serving is 260 calories. The diabetic exchanges per serving are: 2 1/2 protein, 2 vegetable, 1 starch. You won't be sorry for trying it. My 3 year old son eats it too. You won't miss the fat/calories.

I made this casserole for dinner today.8-28-09..I liked it, my DH did not care for it..If I were to rate this I would give it a 4 my DH said a 2..Everyones taste are different,cant please everyone...But thank you for posting...I reheated the leftovers for dinner today 9-1-09 and my DH liked it better...It had time for the flavors to mingle..I will make this again,but cook the day before and reheat ...
Preheat oven to 375 degrees.
Spray an 8-by-8-inch baking dish with cooking spray.
In a large skillet sprayed with cooking spray, brown meat, garlic, onion and green pepper.
Add salsa, chili seasoning, tomato sauce and ketchup.
Mix well to combine.
Stir in corn, rice and cheddar cheese.
Pour mixture into prepared baking dish.
Bake for 20 minutes.
Place baking dish on a wire rack and let set for 5 minutes.
Divide into 6 servings.
HINT: 1 1/3 cups uncooked rice usually cooks to about 2 cups.