Junebug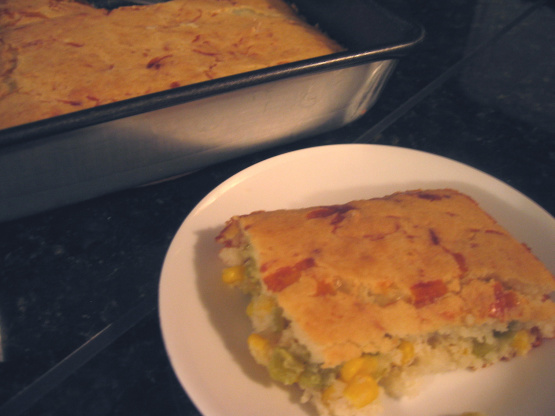 This is an easy, yet tasty cornbread. I serve it in the winter with soup or chili!

This was easy to put together and uses ingredients that I generally have on hand. The recipe didn't say what size can of corn to use so I used a small one, 8 3/4 ounces. Other than that I followed the recipe exactly. I had to bake mine for 40 minutes to get the top to brown. It had too much corn in it for our personal taste. Also the cornbread was drier than usual and I didn't know if this was because it baked for a longer time since it was in a cooler oven than is normal for cornbread or if it could be due to the cornbread being in two thinner layers, with the filling inbetween. I did like the idea of the filling in the middle of the cornbread. But if I cook this again I would try it maybe with about 1/2 cup cream corn in the batter and twice the cheese and a can of peppers is the middle and bake it as stated on the package of mix. Thanks for sharing your recipe Kim D. and giving me the idea to make a filling for the cornbread.
Preheat oven to 350 degrees F.
Mix cornbread according to directions on package.
Place half the cornbread batter into a greased 8-inch square pan.
Top batter with corn, green chiles and cheese.
Spread remaining batter on top.
Bake for 35 minutes, or until golden.