Pamela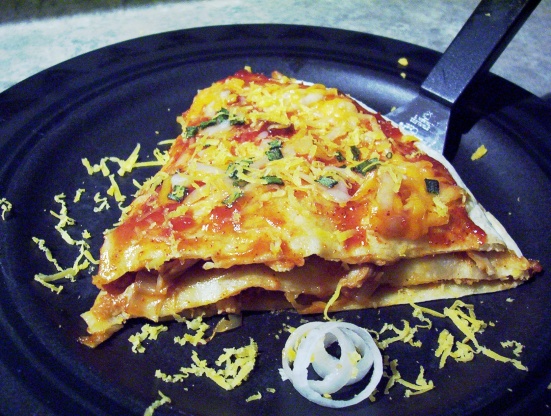 I found this recipe in the latest "What's Cooking" Magazine and I knew I would love it! There are a few modifications from the original recipe in my version here.

The combination of barbecue sauce and taco seasoning seems like it wouldn't work well together, but it has a suprisingly good flavor with the chicken. My only change to the recipe was the amount of onions; 2 onions just seems to be way too much. I used 1/2 cup of chopped onions instead.
Preheat oven to 350 degrees.
Fry onions in a frying pan until tender crisp.
Add rest of the ingredients for chicken mixture and simmer until heated through.
Lay 1 tortilla on a lightly greased baking sheet.
Cover tortilla with half the chicken mixture and then half the cheese.
Top with the second tortilla then repeat the chicken and cheese layers.
Cover with the last tortilla.
Top with reserved sauce and cheese.
Sprinkle green onion on top.
Bake for 15 minutes or until heated through.
Allow to stand for 5 minutes before cutting into 6 wedges.