federico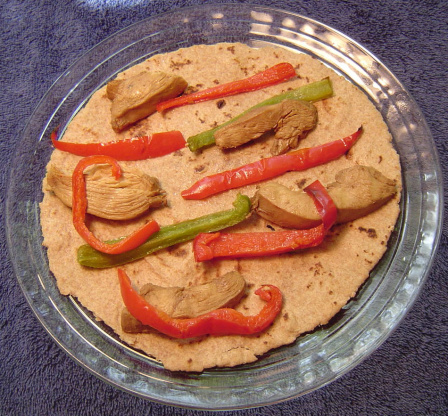 I discovered this recipe in Southern Living. Being the Beer Month, I thought I would post it. Preparation time includes time to marinate.

For pure simplicity, I choose to slice the chicken breasts and the veggies prior to marinating, left them to chill together for 2 hours and after draining, grilled them all together. The taste was still great. Although, in the future, after preparing the chicken, salsa, cheese and sour cream in the tortilla, I will put them in the oven a couple minutes to warm up because I found they cooled down quite a bit by the time they were placed on the table to be served. Otherwise, Prima!
Whisk together first 7 ingredients until well blended.
Place onion and bell pepper in 1 zip-top bag; add 1/2 cup beer mixture.
Seal, turning to coat.
Chill 1 hour.
Place chicken in remaining zip-top bag; add remaining beer mixture.
Seal, turning to coat.
Chill 1 hour, turning once.
Drain chicken, discarding marinade.
Grill chicken and onion, covered with grill lid, over high heat (400° to 500°) 5 to 6 minutes on each side.
Grill bell pepper 5 minutes.
Cut chicken into thin slices, and cut bell pepper into thin strips.
Serve chicken, onion, and bell pepper with flour tortillas.
Serve with desired toppings.
*1(1 1/2-pound) package flank steak may be substituted for chicken.
Marinate 4 hours.
Grill flank steak 10 minutes on each side.