Marlene.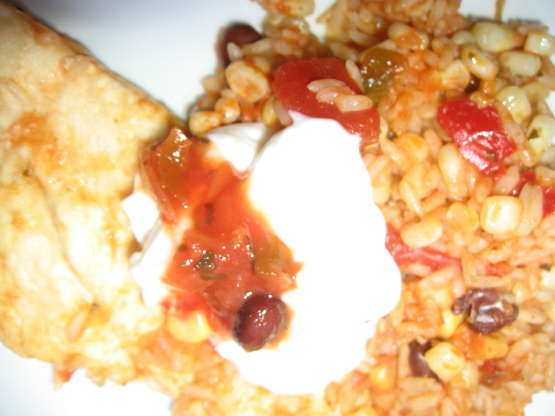 A quick and easy dinner, great for the summer does not heat up your kitchen. This is not a very spicy dinner if you like it spicy feel free to change the spices. Also if you use a thick chicken breast you will need to pound it or adjust the cooking time.
Heat the oil in a large non stick skillet over medium high heat. Add onion and garlic, saute, stirring occasionally for about 2 minutes or until softened.
Place flour on a plate. Place chicken in flour to coat each side, patting off excess. Add to skillet, saute for 2 minutes per side or until lightly golden. Add cumin, chicken broth, vinegar, salsa and corn. Cook for about 4 minutes. The chicken should almost be done unless your using a thick boneless breast then you will have to adjust your cooking time. Remove from heat. Stir rice into liquid. Cover and let stand 8-10 minutes or until the rice is tender. Serve with extra salsa and sour cream if desired.