Tex-Mex Breakfast Hash and Eggs
berry271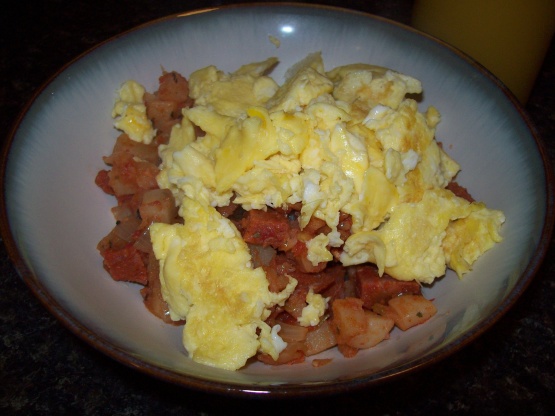 Here's a nice change of pace for breakfast, you control the heat!

We loved this great addition to the brunch table!! Cut down the sausage to 3/4 lb, increased to 2 garlic cloves and made my own hashbrown potatoes using 2 lbs of new baby potatoes. If boiled and chopped the night before there is no extra rush in the morning.
In a large skilled cook the chorizo over medium heat until browned and done.
Drain reserving 3 T.
drippings, setting sausage aside.
Return drippings to the pan and over medium heat saute the onions and garlic for 4-5 minutes.
Add the chiles and stir well.
Add the potatoes, reduce heat to medium low and cook for 20 minutes, stirring often.
Add the tomatoes to heat through.
Spoon onto plates, top with eggs and offer salsa at the table.
Garnish with chopped cilantro and cheese if you wish.