Tex-Mex Baked Potatoes With Chili
KateL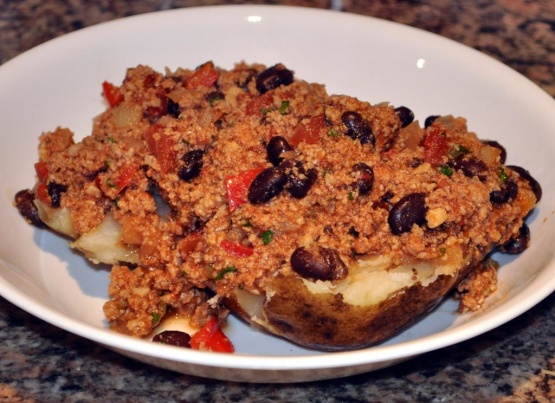 I found this in an old cookbook, made some changes, and it's now the recipe I turn to when I feel like eating chili but don't want to use the slow cooker. You can use any other ground meat, but I like using lean ground turkey.

Honestly, I'm rating the chili which was really great. It was the potato that I didn't care for with the well developed chili. I thought the baked spud was a very bland and lackluster second fiddle to the star of the show. I made it on the mild side for DH and took out a portion for myself to which I added some heat, yum-o! I doubt that I would have thought of adding BBQ sauce to chili but it really worked well. Oh, I guess that I should say too that I used ground beef as there is no ground turkey around these backwater parts. For me the chili is a real keeper. :D
Wrap the potatoes in aluminium foil and pierce with skewers all over. Bake at 425F for 45 minutes.
Heat the oil in a pan and add the garlic, onion, and bell pepper. Fry gently for 4-5 minutes until softened.
Add the ground turkey, and fry until it is browned. Stir in the chopped serrano pepper, ground cumin, cayenne pepper, salt, tomatoes, tomato paste, BBQ sauce, water, and dried herbs. Cover and simmer for about 25 minutes, stirring occasionally.
Add the black beans and cook for 5 more minutes. Turn off the heat and stir in the chopped cilantro.
Cut the baked potatoes in half lengthwise and place one half in each serving bowl. Top them with the chili.