Testament (Chicken-Rice) Casserole
Bone Man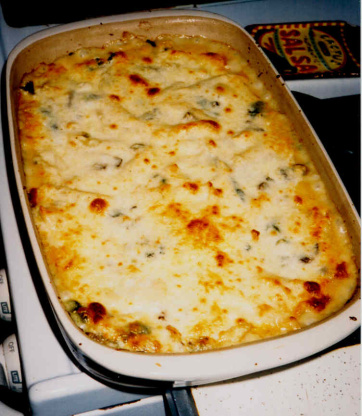 Sometimes, more attention to the details is a little more bothersome but the end result pays off. So it is with this casserole. There is some pre-cooking involved (rice and chicken) but the superior flavor of the casserole makes it all worthwhile. The recipe is not at all difficult but it does take just a bit longer to prepare than the traditonal "quick casserole". It took me a few weeks, off and on, to develop this recipe and, after a couple of trials, I found that the chopped artichoke hearts added just the right flavor to enhance the overall dish. I gave a lot of attention to keeping the instructions clear on this one. You can also make it up ahead, bake it, and freeze it for re-heating later. I hope you enjoy it!

I really liked this casserole. I don't usually spend this much time on meals, but I was in a bad mood and it was somewhat theraputic. I was looking for a good recipe using artichoke, and I found one! In the future I will probably brown the chicken in a pan rather than boil it, but that is just a preference of mine. Unfortunately, my husband and kids do not like artichokes, so I won't be making this very often. I liked the addition!
In a small pan, melt the butter, add the olive oil and sautee the parsley and onion until tender. Set aside.
Preheat the oven to 325-degrees F.
In a four-quart cooking pot, fill 2/3 full with hot water and bring to a boil. Stir in the bouillon and kosher salt, then add the chicken breasts. Reduce heat to a low boil, covered, for 30 minutes. At the end of 30 minutes, remove chicken breasts and chop them into 3/4 inch chunks, trimming off any small pieces of fat or gristle as necessary.
In a large mixing bowl, blend together the two soups, seasoning salt, and the sauteed onions/parsley (no need to drain). Mix the flour into the milk until lumps are gone and add it to the mix.
Spray a large casserole dish with the cooking spray. Spoon in 1/3 of the soup blend. Next, spoon in the rice and lay the chicken pieces evenly on top of it.
Roughly chop the artichoke hearts and add them to the remaining soup mix. Spoon this blend onto the chicken and rice.
Mix together the two cheeses and top the casserole with it. Bake at 325-degrees F. for 30 minutes, covered. Then, uncover the casserole and BROIL on high (middle rack of oven) for about 8 minutes. Keep an eye on it so that it does not burn. You want just a few brown spots on the top.
Remove casserole from oven and allow to cool for 20 minutes prior to serving.
NOTE: I use 3 of the frozen-type chicken breasts, which are actually breast HALVES. (I put them into the boiling water while still frozen.) Also, I use one cup of dry Basmati rice (cooked in 2 3/4 cups of water, with 1 tablespoon of butter and a teaspoon of salt) to generate my four cups of rice. See my "Beginners' Rice" recipe for help.