Boomette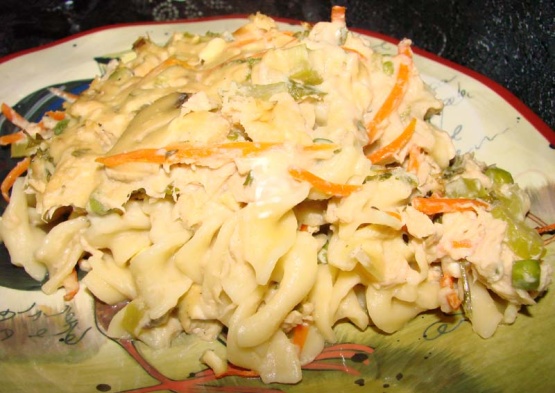 I saw lots of recipes for this on here, but none like mine.
Sauce

1

(400 g) can cream of mushroom soup
3⁄4 cup milk

4

tablespoons cream (your choice, light, heavy, etc.)

1

tablespoon cream cheese

1

tablespoon Dijon mustard

1

tablespoon Worcestershire sauce

Pasta

4

ounces egg noodles, uncooked

Tuna and Veggies

2

(185 g) cans tuna (not in oil, drained)

1

carrot, julienned (1 inch in length)
1⁄2 cup mushroom, thinly sliced

1

celery, chopped

1

onion, grated
1⁄4 cup frozen peas
1⁄4 cup fresh parsley, chopped

Other

2

tablespoons breadcrumbs
Get the pot of water boiling for the egg noodles and add some salt to the water.
In a medium bowl, mix all the ingredients for the sauce and set aside.
Preheat the oven to 180C/350°F.
Add the egg noodles to the pot and cook for half the amount of time specified on the package. The noodles will continue cooking during the baking.
While the noodles are cooking, mix together all the tuna and veggies ingredients in a large bowl.
Drain the noodles and add 2-3 tablespoons of the cream sauce and stir around. Pour the noodles and sauce into a 9X13 baking dish and spread over the bottom.
Add 4-5 tablespoons of the cream sauce to the tuna & veggies and mix around.
Spread the tuna/veggies over the noodles in the baking dish.
Pour over the remaining sauce and poke into the mixture at random with a rubber spatula to allow the sauce to go through the ingredients. Do Not Stir.
Sprinkle with bread crumbs.
Bake for 45 minutes until bubbly.
Let sit 5 minutes prior to serving.