Terri's (Almost) Famous Clean-Out-The-Veggie-Drawer Pasta Primav
Terri F.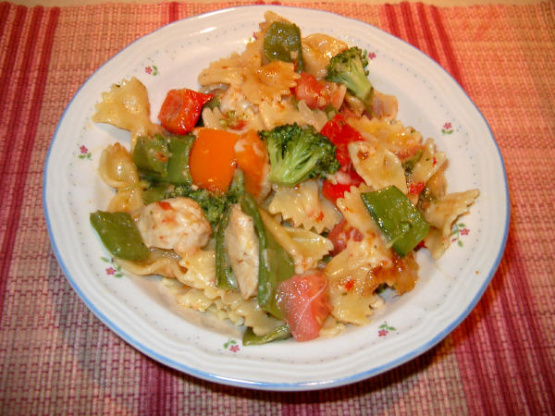 No creamy sauces to weigh this one down, this is my own creation, perfected over time. It's easy, it's quick, and the secret ingredient makes it all taste wonderful! Cleans out that veggie drawer, too! :o)

An excellent primavera! Very easy to prepare. I love dishes with a lot of vegetables, and this one cetainly is that. I used green pepper, celery, snowpeas, carrots, and water chestnuts. I added 1 t red pepper flakes for a little bite, and used rotini.I also added 1/4 cup chicken broth to add volume to the sauce. The veggies were crunchy and the sauce was smooth. Lovely combination. Will make this a lot. Thank you for the recipe Terri!!
Heat olive oil in large saute pan.
Add chicken (if using) and 3 cloves pressed garlic, and saute until chicken is no longer pink.
Add butter, all chopped veggies, 1 clove minced garlic, and McCormick spice.
Cook and stir for about 5- 7 minutes more, until veggies are cooked, but still crisp.
Add pasta to veggies and chicken, stir well, and heat until pasta is warmed through (2 minutes).
Add cheeses and stir until melted.
Add tomatoes last, and remove from heat (don't cook the tomatoes).
Serve piping hot with garlic toast.