Terrific Turkey (Or Chicken) Tetrazzini
Prep 20 mins
Cook 15 mins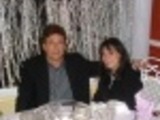 After turkey soup, this is my go-to recipe for post-holiday turkey leftovers. It's easy, yet is somewhat more upscale than a plain old noodle casserole. It was created out of necessity but is now made by request!
Directions
In medium saucepan, heat 2 olive oil. Add onion, mushrooms, and celery, and saute until tender, then set aside.
Meanwhile, cook pasta according to package directions and drain.
In large skillet, melt butter. Whisk in flour and cook for 1 minute, then slowly add half-and-half, and then broth. Bring to a boil and thicken, stirring constantly. Whisk in sherry and spices, then stir in chopped turkey, frozen peas, and reserved onion mixture. Add pasta and stir until evenly coated with sauce.
Spray a baking dish with non-stick cooking spray. Pour in noodle and sauce mixture, then top with Parmesan cheese. Bake at 350 degrees for 10 to 15 minutes, until bubbly. You can also just run this under the broiler for a few minutes to brown. Enjoy!
Reviews
Most Helpful
We enjoyed this chicken tetrazzini very much -- loved the addition of the sherry. Easy to make and it has a really nice presentation. Served this with some steamed broccoli on the side. I added additional sherry per the previous comments -- you can never have too much with a cream sauce and mushrooms - yum! Made for PRMR, January, 2013.

I had to make some changes. I had no sherry, so instead, for the liquid I used 1 cup chicken broth and 3/4 cup Champagne I had leftover from another recipe. Also, I cut down the pasta to 5 oz. Really good, Jackie, thanks for posting!

Good recipe. I thought it could have used more sauce, but otherwise it tasted good. Maybe cut back on the amount of chicken and fettucine noodles and it would be a better ratio.
Thanks Jackie!