( Terribly Impressive ) Chorizo Puffs
HeidiSue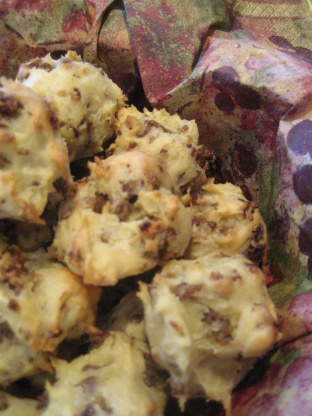 This is a Jill Dupleix recipe for little puffs of yumminess. Make these as really irresistable appetisers, or for a swanky cocktail party. You make this choux pastry in a food processor, and you can use whatever spicy sausage you prefer..too easy!

Wow, very easy and very tasty! I am not a fan of Chorizo and happen to have some ground pork sausage, so I used that instead. I used just under half a pound. I really wanted to add some crushed red pepper to spice them up, but I was afraid my kids wouldn't eat them. However, I have some yummy raspberry chipotle sauce that I dipped them in and that did add some spice. I desperately wanted to add some grated cheese to the mix, but wanted to stick to the recipe this time, next time I will. The dough is smooth and sticky, I think you could pretty much add whatever yummy preference you would like and it would work out great. They are very reminiscent to sausage cheese balls, an appetizer I grew up with in Texas. They took about half an hour at 400 here, but I am at a high altitude. I did make them using my food processor, but next time I will use my kitchenaid mixer and there will definately be a next time! Thank you Aunty Dotty!
Heat oven to 200C/400°F.
Skin the sausages and crumble the meat into a hot pan. Fry til nice and brown, then drain on paper towel.
Heat butter, water and salt in a heavy saucepan. As soon as the butter is melted and water boiling, add all the flour.
Lower the heat and stir like crazy, til the dough pulls away from the sides and forms a ball.
Keep cooking and stirring for another couple of minutes, then chuck into the processor and blend for 15 seconds.
Add the eggs and blend another 45 seconds.
Stir the sausage meat into the mix, then drop teaspoons full onto a greased/lined tray.
Bake at 200C for 10 to 15 minutes - til golden and serve ASAP. Won't last long -- .