SusyQ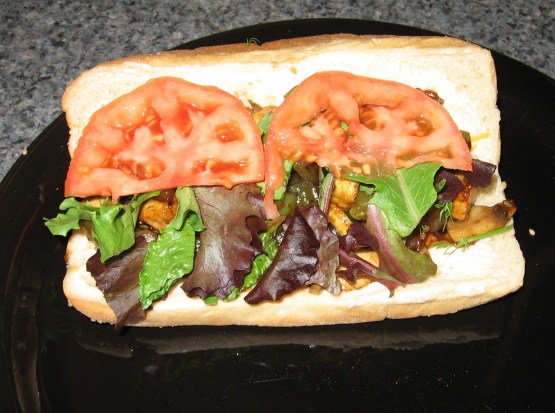 This is a take on a philly cheese steak sandwich with a little twist! Very yummy!!

nothing special. it was a bit bland actually. i would marinate the tofu long before to give it some kick and melt some white cheese over it. to me it didn't feel anything like a philly sandwich.
Heat saute pan on medium high heat with olive oil. Add tofu and saute until lightly browned.
Turn heat down to medium and add onions and green peppers; cook until slightly softened then add mushrooms and do the same.
Meanwhile, prepare hoagies with desired condiments: mayo,cheese,etc. (leave lettuce and tomato for last).
When mushrooms are slightly softened turn heat to low then drizzle teriyaki sauce a little at a time until mixture is coated. Heat for just a couple of minutes making sure not to burn.
Spoon mixture onto hoagie buns, top with lettuce, tomato,etc and enjoy.
This recipe is delicious served with french fries or tater tots or you could spoon mixture on rice for an oriental dinner!