gailanng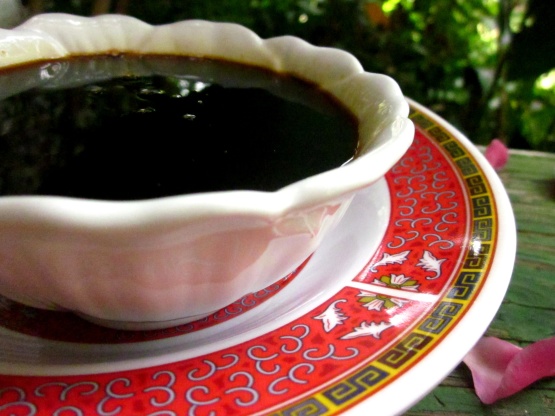 I had a hard time finding a good teriyaki recipe, there are so many different kinds. I found this on the internet, it is a Hawaii style teriyaki, and has the taste I was looking for (grew up in Hawaii). This is very sweet, and thick, and I usually dilute it a little before using it.

This sauce is delectable it's so simple but the results are impeccable. I've made it both with japanese style soy sauce and regular soy sauce, both are great (although following the recipes suggestion did seem to work a little better). The sauce is also the perfect texture, nice and rich. It kept well for me, although making enough has been more of a problem than leftovers. Totally worth the scary nutrition label.
1

cup shoyu (Japanese soy sauce)

1

cup sugar

3

inches fresh ginger, peeled and sliced

4

cloves garlic, crushed with the side of chefs knife and peeled
Stir together shoyu and sugar in a small saucepan over low heat until sugar dissolves, about 2 minutes.
Add ginger, garlic, and simmer for about 30 minutes.
Remove and discard ginger and garlic.
Sauce will keep in a sealed container in refrigerator for at least a month.