Teriyaki Pork Roast (Crock-Pot)
denise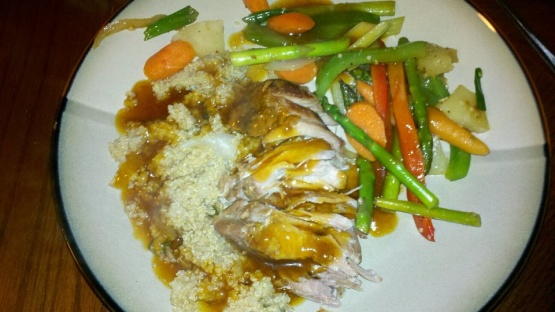 Grand Prize winner in a Simple & Delicious contest for crock-pot recipes. . .not my recipe unfortunately, but I had to post it here for safe keeping. They recommend serving it sliced with a side of hot mashed potatoes however I think it's much better atop fluffy white rice!!! This is a fabulous recipe and your end product won't have that "crock pot" flavor!!

OMG.... I am soooo so so glad that I have found this recipe. My hubby just loooves terriaki so much but unfortunately I was having a terrible time finding one that did'nt have hot peppers or anything spicy in it, and this one is nothing short of perfect........ Thank you January bride for posting it. and if you keep posting/cooking great recipes like this and I keep coping/cooking them we will both be happy brides for a long time...
Cut roast in half; rub with brown sugar. Place in a 5-qt. slow cooker.
Mix together apple juice and soy sauce (and garlic and ginger if using) and pour over roast.
Sprinkle with salt and pepper.
Cover and cook on low for 6 to 6-1/2 hours or until meat is tender.
Remove roast; cover and let stand for 15 minutes.
Meanwhile, strain cooking juices and return to slow cooker. Increase temp to high.
Combine cornstarch and cold water until smooth; gradually stir into juices in slow cooker.
Cover and cook on high for 15 minutes or until thickened.
Slice pork; serve with gravy.