diner524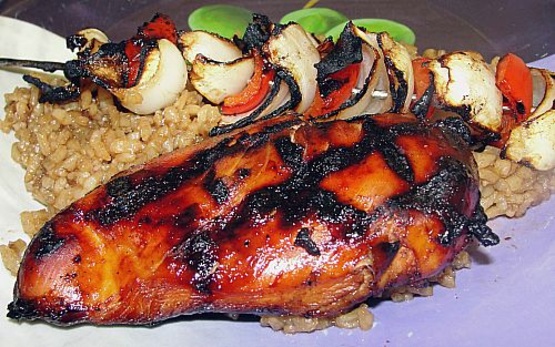 Years ago I was given a recipe for homemade teriyaki marinade by a friend from Hawaii. The recipe was rich, flavorful, and surprisingly easy to make. I regretfully somehow misplaced the recipe over the years. Now that I'm married and back in the kitchen, I'm cooking more and a lot more from scratch. I've tried to recreate the recipe I had years ago and think I've done a pretty good job. Preparation time does not include two hours in refrigerator to marinate meat. Hope you like it.

This was a great marinade; the flavor was yummy, I had everything on hand and it was simple. I reduced the recipe to 1/3 of the original amount. I marinated 3 regular size chicken breasts; I cut them into bite-sized pieces and cooked them in a wok. I saved the marinade, and after the meat was done, I sauteed the veggies, removed them, returned the chicken to the wok, with marinade, brought it to a boil, and added a tsp. of cornstarch, to thicken the marinade into sauce. And it tasted so good, I forgot to mix the veggies back in before the pic! This is terrific, Live/Laugh/Love, and thanks for sharing!
In medium pan over low to medium heat simmer soy sauce, garlic, brown sugar, vinegar, and ginger root.
After 15 minutes, add pineapple juice and orange juice.
Up to 2 hours before cooking time pour the marinade into a shallow baking pan or a ziplock bag that you've placed in a bowl to avoid spillage, add strips of beef, chicken pieces, steaks, OR pork chops, etc.
Place in refrigerator to marinate.
It is recommended that you use the marinade only once, for one kind of meat, then discard. If you are making two kinds of meat, such as chicken and beef, divide the marinade and allow the different meats to work in different containers.
Meat can be cooked in a variety of ways. Steak or beef strips are good placed over hot coals on a grill. Cook steaks to your preference. Beef strips will cook quickly, turn often, watch closely. Chicken is best baked or broiled until juices run clear. Pork can be cooked on the grill or in the oven until no longer pink.