Derf2440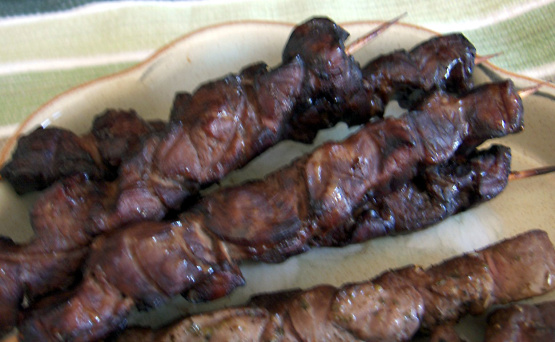 These are great made with beef sirloin or pork tenderloin; whatever you're in the mood for. Blanching the green peppers will soften them a little, but not necessary. Grilling over charcoal is a plus.

Yummy kabobs!! I used precut beefsteak from the local butcher and marinated them overnight. Just perfect!! I was serving them for a luncheon and since I was serving several salads I used just the meat, no fruit and veggies. Loved the marinade, soo much flavour! I cooked them in the oven this time but will look forward to the summer to try them with the veggies and fruit and cook them on the BBQ. Thanks for sharing a keeper!
Combine first 7 ingredients for the marinade Reserve a small amount for basting Add beef or pork cubes to remaining marinade and seal, chill for 3-4 hours, turning once or twice Thread the meat, veggies and fruit on metal skewers Grill over medium charcoal for approx.
15 minutes, turning and basting.