Teriyaki Glazed Oven-Baked Chicken
Karen..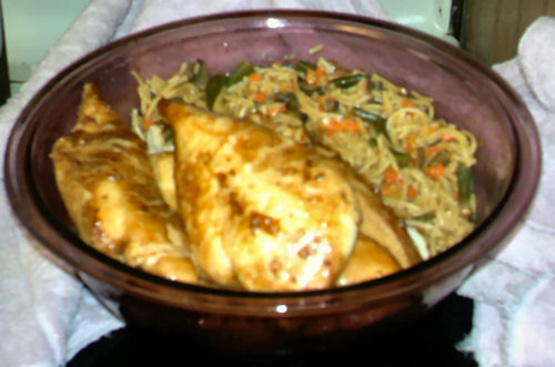 Plan ahead the chicken needs to marinate for 8 hours. This recipe can easily be doubled.

Top Review by ntludu
AWESOME! My DH and my 3 little DS loved this and they are so picky. I also used skinless boneless chicken breats.I added a big splash of soy sauce and so I didn't salt it at the end. I served this with some chinese veggies, a little rice and some ramen noodles.
In a bowl stir together the teriyaki sauce, orange juice concentrate, sesame oil, garlic and black pepper until well combined.
Place the chicken pieces in a large bowl, then pour HALF the marinade over the chicken; toss with clean hands to coat, reserve the other half marinade for basting the chicken.
Cover and refrigerate the chicken for 8 hours.
Remove the chicken from the marinade and discrd marinade.
Set oven to 400 degrees.
Place the chicken pieces on a large foil-lined baking sheet that has been sprayed with cooking spray, skin-side up.
Sprinkle lightly with salt.
Bake for about 40-45 minutes or until the chicken is done.
Brush with the reserved marinade 5 minutes before end of cooking.