Sonya01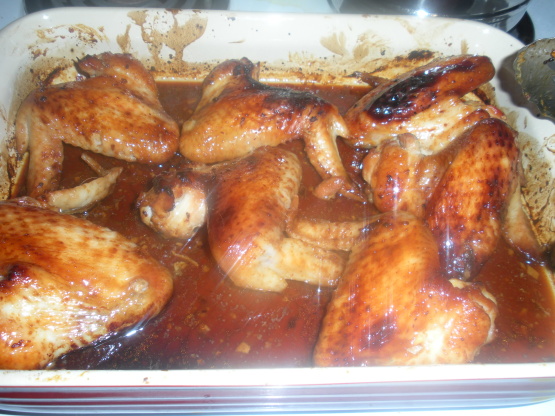 My 3 year old saw this recipe some where and is adament that he wants it at his 4th birthday. Looks tasty. Add 3 hours marinating time to preperation time.
we had this for dinner tonight and it was a big hit. My step son loved it and he is a really picky eater. I was a bit worried as before he did not like chicken wings but i had large wings so i think that made the difference. was not sure how to tuck the tips under but that did not matter :) Made for RECIPE SWAP #41 - June 2010 in aust/nz forum :)
Tuck tips of wings under to for a triangle.
Place wings in a shallow non metal container.
Combines soy, sherry, ginger, garlic and honey in a jug and mix together.
Pour over chicken.
Cover and store in fridge serveral hours or over night.
Cook under grill basting ocassionally, or bake in oven at 180 C 1 hour in the sauce.