Bayhill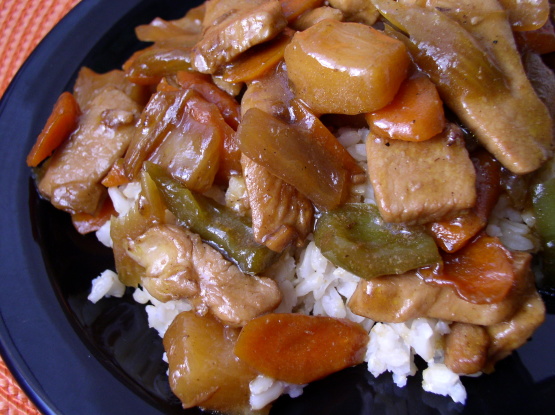 I found this on another recipe website...it's really easy, fairly inexpensive (I had all the ingredients at home already) and the leftovers are super! I really hope you enjoy! I serve with Shortcut Sticky Rice, Shortcut Sticky Rice. The cooking time does not include the marinating time of 2-3 hours. Hint: I made the 2nd batch of marinade right before I cooked the chicken.

Top Review by NancyB
I didn't marinate it (didn't figure out what I was cooking until supper time). So I cooked the chicken separately and then put the sauce in the pan and brought it to a boil. Added the chicken and let it simmer for about 20 minutes. FABULOUS. I also added a little fresh garlic to the sauce. Bit time winner.
Combine water, soy sauce, brown sugar, garlic and ginger.
Whisk to mix well.
Marinate chicken in half of sauce 2-3 hours, turning once.
Stir cornstarch into remaining sauce and bring to boil over medium-high heat, stirring constantly, until mixture boils and thickens slightly (I did this step right before cooking chicken).
Cool this mixture to room temperature.
Drain marinade off of chicken, reserving 2 tbsp of the marinade; discard remaining marinade.
Stir fry chicken in vegetable oil until chicken in almost done.
Stir in reserved 2 tbsp of marinade and continue stir frying until chicken is done and glazed.
Serve over hot rice with cooled teriyaki sauce.