Teriyaki Beef Stir-Fry or Marinade
Cathy17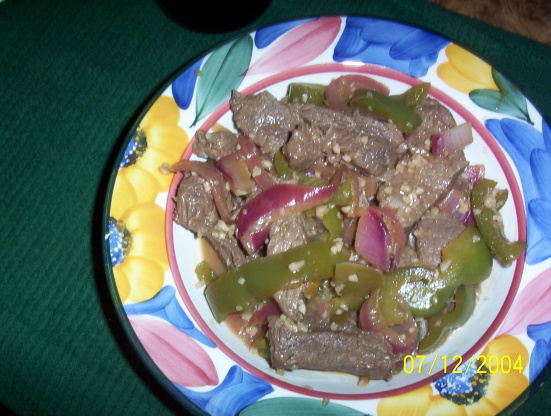 Yet another recipe from Chatelaine, but this was originally in the magazine as a salad. The salad didn't appeal to me, but I used it as a base for a great stirfry and used the dressing as a marinade. I then added some things here and there to give it a unique flavor. Cooking time does not include marinating in fridge.

Top Review by vrvrvr
This was an excellent marinade. Very flavorful. I marinated the meat for an afternoon, then removed from the marinade to stir fry. I added the reserved marinade to the skillet for the last minute of cooking. Served over rice and topped with toasted sesame seeds. The meat had a wonderful flavor, with hints of citrus, garlic and ginger. Delicious!
Marinade

1⁄2 cup orange juice

4 -6

tablespoons teriyaki sauce (I use 4 TB as I find teriyaki sauce a bit salty for our taste)

1

tablespoon vegetable oil or 1 tablespoon olive oil

2

teaspoons dark sesame oil

2

teaspoons granulated sugar

1

teaspoon Tabasco sauce (I use more) or 1 teaspoon bottled hot sauce, to taste (I use more)

2

teaspoons bottled chopped ginger (I use more) or 1 teaspoon freshly grated ginger, to taste (I use more)

2

teaspoons bottled chopped garlic or 2 garlic cloves, minced, to taste
1⁄4 teaspoon salt, to taste

1

lb top sirloin steak, cut into one inch strips

The Stirfry

1

teaspoon sesame oil

2

tablespoons sesame seeds

1

tablespoon minced garlic

1

tablespoon minced ginger

1

medium Spanish onions or 1 medium purple onion, sliced

1

large green pepper, cut into strips
Mix all ingredients together for the marinade.
Cut the beef into one inch strips and add to the marinade.
Put in a plastic container or Ziploc bag in refrigerator for 3 to 4 hours, stirring/shaking often.
To make stirfry, heat sesame oil in a non-stick skillet or wok skillet.
Add the sesame seeds, garlic and ginger and mix together until seeds are slightly toasted and flavors blended.
Add sliced Spanish onion, green peppers, 1/4 cup of marinade, mix well and stirfry until onions are slightly translucent.
Add the beef, mixing well to blend all the flavors and ingredients.
If you want, you can add some more of the marinade with the beef.
Stir fry about 5- 7 minutes on medium heat for medium rare or longer for your tastes.
It went great with a bottle of Cabernet Shiraz Merlot red wine.
Note: I reduced the measurement for the teriyaki sauce because it was a tad salty when I originally made it.
If you don't mind the salty flavor, you can add more for your taste.