teresas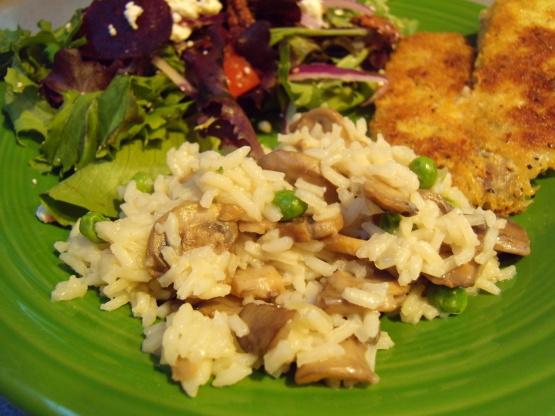 I came up with this recipe a few years ago-goes great with everything! Especially roasted chicken,grilled steak,and barbequed pork tenderloin-A wonderful side dish for any meal!

Teresa, this was tasty! I did halve the quantity of oil, I went with 1 tbsp. I substituted the chicken boullion cube with a cube of "Maggi vegetable stock with onion"(being a vegetarian). As this cube contained onion, I did not chop a yellow onion for this. I put the cube in 2 1/2 cups of water(I did use more water as you can see) and put it on high flame until the cube was dissolved in the water and the veg. broth was ready! Into this broth, I added the washed and drained rice, the mushrooms(that separately I had earlier sauteed in 1 tbsp. oil) and the greenpeas. I brought this to a boil, then lowered the heat and cooked it, partially covered, till the water had evaporated and the rice was ready! I served it immediately(hot) and it was very tasty. I had it topped with a dollop of low-fat plain yogurt and some black-eyed peas vegetable curry on the side. It was a lovely recipe you shared here. THANKS!
In skillet, melt butter (or heat oil) over medium high heat.
Add mushrooms and onions--saute them until the onions are tender.
add onion/mushroom mixture, with all the other ingredients EXCEPT PEAS to rice cooker or pot cover and cook on low for 20 minutes.
during last 5 minutes of cooking, add frozen peas.
(adding them earlier will overcook them and they'll be mushy.. so add them at the end) (I didn't give an amount on the peas, because you can use as little or as many as you like--or omit them all together--I love the peas, so I'll use about a cup).