Nimz1466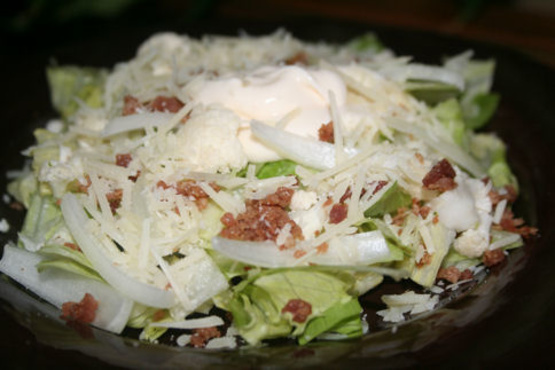 This salad is a copycat recipe from a Minneapolis restaurant that specilized in Prime Rib...the salad is sweet and salty and really great with a heavier meal.
This recipe has so many variations but the one and only 'original' recipe is the best. First, never use bacon bits. You must fry up bacon and crumble it. And only use Hellmanns dressing (no substitutes) with the sugar and milk. This salad is amazing when you make it like the original. And the original never had onions or peas.
Mix dressing ingredients together.
Cut lettuce into small pieces.
Cauliflower chops up easier if you just shred it from the whole head rather than breaking the flowers off separately.
Get ingredients all ready first, then toss just before serving.