Sara 76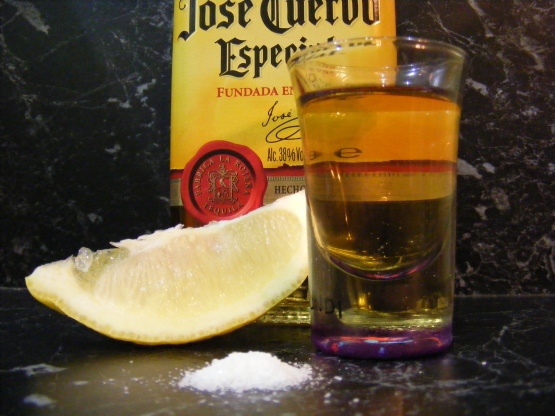 This is also known as lick, sip, suck. I love this drink especially when I'm with my mates. A great party drink.

This is not a tequila slammer. This is just simply a classic tequila shot. A tequila slammer is 1 part tequila and 1 part lemon-lime soda (like 7-up or sprite). Fill the glass with just about 1/5 empty, cover the top of the glass with your hand or a cloth and slam the glass on the table (hence tequila slammer). The slam mixes the two and the soda creates a fizz. Then you take it all in one gulp like a shot. A splash of grenadine is also optional.
Pour the tequila into a shooter glass.
Make a wet patch on your wrist and pour some salt on it.
Now first you lick the salt.
Then you sip (I really mean skull) the tequila.
Then you suck the lemon.