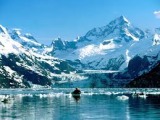 Bobby Flay created this yummy alcoholic punch. I love all the healthy juices and, of course, the tequila! This is super easy to make and contains 8 servings. It is easy to halve or double. Enjoy!
Directions
Combine all of the liquid ingredients in a pitcher.
Garnish with the orange slices.
Serve over ice.
Reviews
Most Helpful
I made this for a birthday party and I had to make 2 pitchers. Everyone loved it. I used Ruby Red Grapefruit juice to add a little sweetness to it.
Delish! Perfect for an after work drink, or great for sipping by the pool! And you cold still taste the tequila, even with all the juices, tho it wasn't too strong...I'll tuck this one away for next summer, for sure. And then, I can make it by the pitcher! :D Thanks for sharing, LifeIsGood!
Great drink! Nice and fruity and goes down so smooth! Mixed up a single serving in my cocktail shaker and didn't serve over ice. Great drink - thanks for sharing the recipe!