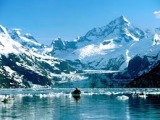 Bobby Flay created this yummy alcoholic punch. I love all the healthy juices and, of course, the tequila! This is super easy to make and contains 8 servings. It is easy to halve or double. Enjoy!
Directions
Combine all of the liquid ingredients in a pitcher.
Garnish with the orange slices.
Serve over ice.
Most Helpful
Excellent stuff. I didn't have cranberry juice so used some Lifewater weird flavor that was red! After drinking it, I didn't care!

Warning - Don't plan to drive or operate heavy equipment after drinking this - BBQing is also questionable! This is a delicious punch, so refreshing! and wonderful to have one that doesn't taste like Hawaiian Punch or other such sicky sweet drinks. I used 100% cranberry juice and fresh grapefruit juice this was very tart so I added about 1/2 tsp of splenda (reduced to 2 drinks) to take off the edge. Made for Culinary Quest 2015 by one of the Toasted Tourists.
Great punch! This is so easy to make for one - since everything is equal parts. I'm sitting here gazing at a sunset with a tall, cool drink in my hand. Delish! Made for Culinary Quest 2015 by a Toasted Tourist.